Decorative Laser Cut Metal Panels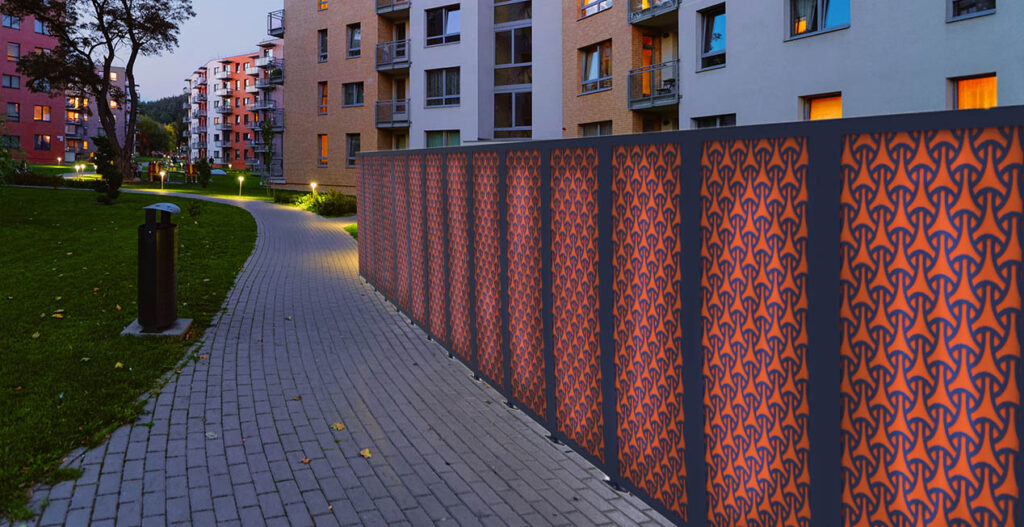 When it comes to architectural and mechanical equipment screening in the United States, PalmSHIELD reigns as the premier contractor: staffed by industry experts, managing top-notch fabrication facilities with state-of-the-art equipment, and offering a broad spectrum of customizable panels. Architects and engineers frequently need—and in some cases are legally obliged—to install barriers around certain fixtures and equipment (dumpsters, propane tanks, transformers, HVACs, etc.). In most cases, civil codes dictate hiding these objects from public view—which likewise means the screening has to meet height requirements and blend into the surrounding architecture. For this reason, the team here at PalmSHIELD has developed a series of decorative laser cut metal panels. However, this is not the sole function of these panels nor the only situation where they can be used.
FOR A FREE ESTIMATE:
How Can Decorative Laser Cut Metal Panels Benefit Me?
PalmSHIELD also serves homeowners and community-based clients, installing elegant panels around swimming pools, courtyards, patios, gardens, and walkways. In these situations, the regular gray screening designed to hide rooftop equipment simply won't cut it. Panels ornate in design—but still functional—are often the preferred choice, the elegant appearance helping create a relaxed, inviting atmosphere befitting public gardens, pools, and rec centers.
And what's great about PalmSHIELD's decorative laser cut metal panels is that they can be custom designed to feature logos and specific color schemes. (For instance: high schools and universities can order panels with hues and patterns matching their mascots.) To mix customization with quality, PalmSHIELD employs in-house teams experienced in design and fabrication. Regardless of whether you want a pre-existent pattern for your laser cut screening or if you have an original design to submit, we can transform your vision into a fully functional, three-dimensional product. And we continue to offer these dual benefits in our latest artistic laser cut panels.
Since its inception 55+ years ago, PalmSHIELD has continually devised new models of architectural screening, including the above mentioned decorative laser cut metal panels. Ideal for customers with display needs, these panels are fabricated by trained industry professionals and can include everything from colored diffusers to LED displays. The infill is not the only customizable part; the framework can also be colored via powder coating for contrast or to blend in with the surrounding aesthetic. PalmSHIELD currently offers four types of decorative laser cut metals screens—symbol, translucent, opaque, and LED backlit—each of which we discuss below.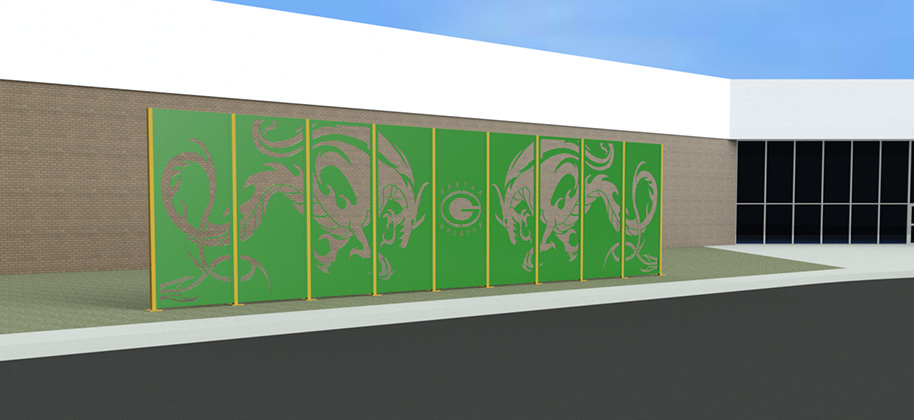 Symbol Decorative Laser Cut Metal Panels
While not the ideal choice for situations requiring objects fully hidden from view, symbol artistic laser cut panels feature images (say, logos and mascots) cut through a solid sheet of material (options include aluminum, carbon steel, galvanized steel, and stainless steel). The cuts are thorough and unobstructed. So, rather than hiding mechanical equipment, these panels function best as display pieces—say, for promoting businesses and organizations.
FOR A FREE ESTIMATE:
Translucent Decorative Laser Cut Metal Panels
PalmSHIELD's translucent screening creates its display through artistic laser-cut frames and an interior acrylic sheet. The acrylic, which can be colored or non-colored, is available in whatever density's desired. During the installation process, the acrylic will either be placed between two identical laser cut frames or attached to the backside of a single frame. In both cases, the acrylic remains visible through the gaps in the panels and diffuses light passing through it. If your panels are to be set against a wall, you can use artificial lighting to achieve a genuinely attractive glowing effect. (Don't forget that PalmSHIELD's fabrication staff can also powder-coat the frames a contrasting color, making the display even more attractive!)
Opaque Decorative Laser Cut Metal Panels
Opaque laser cut metal panels are similar to their translucent cousins: consisting of sheets placed between two exterior frames, the colored interior visible through pattern-shaped holes. The difference is that opaque laser cut metal panels have no transparency: the interior sheets are solid and impervious to light. So if you want an attractive display of colored panels lining your garden walkway—but you don't need the glowing effect—this screening will suffice. Opaque artistic laser cut screening is ideal for panels featuring mascots and logos—wherein the hues need to remain exact.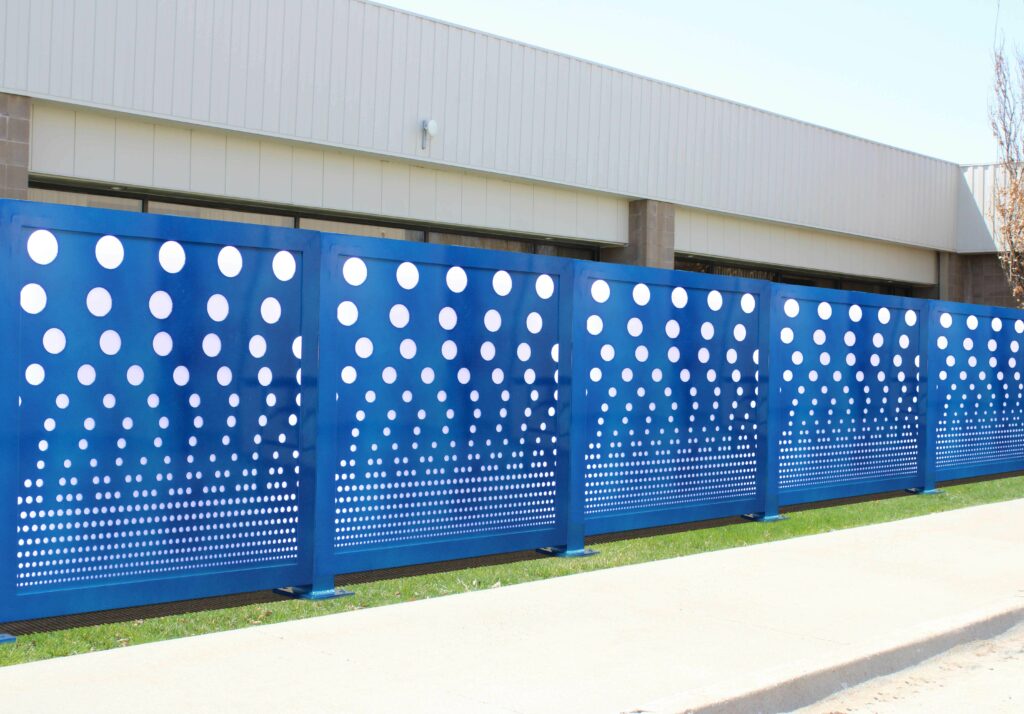 LED Backlit Decorative Laser Cut Metal Panels
Of all the screening types available here at PalmSHIELD, LED backlit laser cut metal panels are the most complex, the most ornate, the most dazzling. Situated behind the exterior framework and the acrylic sheets is a professionally constructed box fashioned from aluminum, which in turn contains a system of marine-grade LED lights. (This box is easily accessible in situations requiring maintenance or repairs.) When activated, the LEDs cast through the acrylic and produce an inviting electronic display. For powering these panels, each can be fitted with its own 24-volt adapter and ETL-listed power adapter. Another option is to link a row of panels and support columns and daisy chain the LED systems together.
CONTACT PALMSHIELD FOR A FREE ESTIMATE ON DECORATIVE LASER CUT SCREENING!